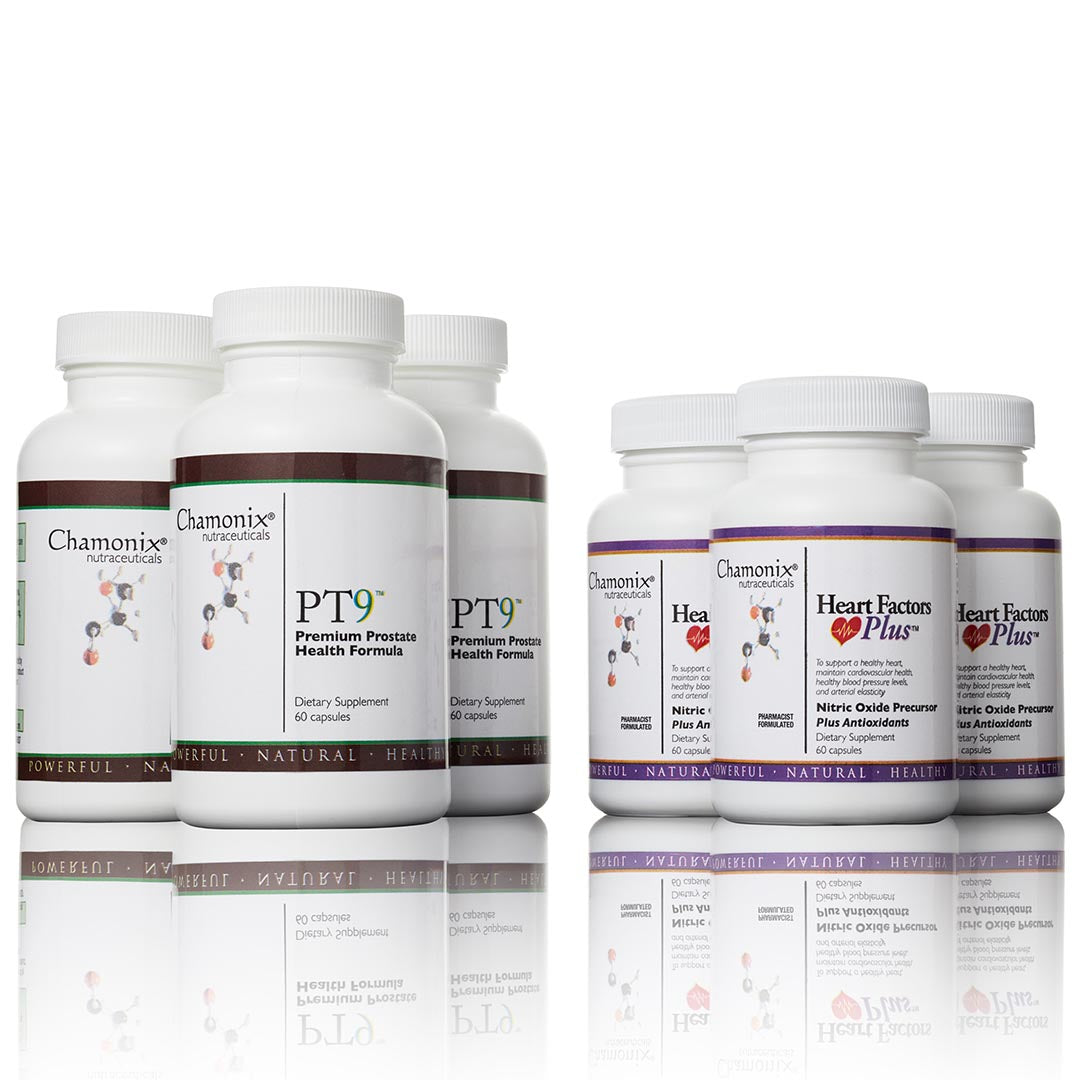 Heart Factors and PT9 Max Package
Regular price
$359.70
Sale price
$179.85
Save 50%
/
---
Description

Return Policy
Introducing...the NEW! PT9 Premium Prostate Health Formula
PT9 is a Prostate Health/Testosterone Breakthrough!
PT9 is extraordinary because it helps men with both Prostate AND Testosterone Health Issues.
The NEW PT9 a huge step towards:
Improved urine flow

Restful night sleep

Decreased urgency

Improved sexual function
Plus many men over forty need to boost or maintain healthy testosterone levels for better libido, mood, muscle mass and a more vigorous love life.
Instead of using 4 or 5 different supplements, PT9 does it all in one bottle and you only have to take 2 small capsules a day.
PT9's unique formulation of ingredients promotes a healthy prostate, as well as, maintain healthy testosterone levels. PT9 contains not one or two, but 4 key ingredients that are shown to maintain a healthy prostate.  Imagine having less bathroom trips in the middle of the night, getting rid of that constant feeling like you have to go and enjoying a better quality of life. 
PT9 contains Zinc, Selenium, Saw Palmetto and Pygeum at levels to help support a healthy prostate and provide you with the quality of life that you deserve. Not only that, but PT9 contains ingredients to also help a man maintain healthy testosterone levels for a more vibrant libido, increased muscle mass with exercise and a vigorous love life.  Most guys that have prostate problems also have declining testosterone and a dwindling libido. 
PT9's special blend of Vitamin D and Boron  have been shown to help maintain healthy testosterone levels. 
Heart Factors Plus*
Nitric Oxide Precursor
Plus Antioxidants
(60 capsules per bottle)
Maybe the BEST Cardiovascular Supplement Ever!
Only 2 capsules with breakfast every morning!
Heart Factors Plus has been designed to support a healthy heart and helps support healthy blood pressure levels. It contains an amino acid called L-Arginine which boosts the body's production of Nitric Oxide.
Heart Factors Plus also contains many heart-healthy antioxidants such as green tea extract, grape seed extract, chaste tree berry, and vitamin B6-all essential nutrients for the body.
The existing research that lead to the discovery of Nitric Oxide (NO) and its precursor (L-Arginine) was awarded the Nobel Prize for its versatility and the incredible benefits that it provides.
Testimonials are based on actual results from real Heart Factors Plus users.
*These statements have not been evaluated by the Food and Drug Administration. These products are not intended to diagnose, treat, cure or prevent any disease
If you don't love the way our products make you look and feel, just contact customer service within 120 days and you'll get a full refund on your order today, even if they are completely empty.
It's that simple.