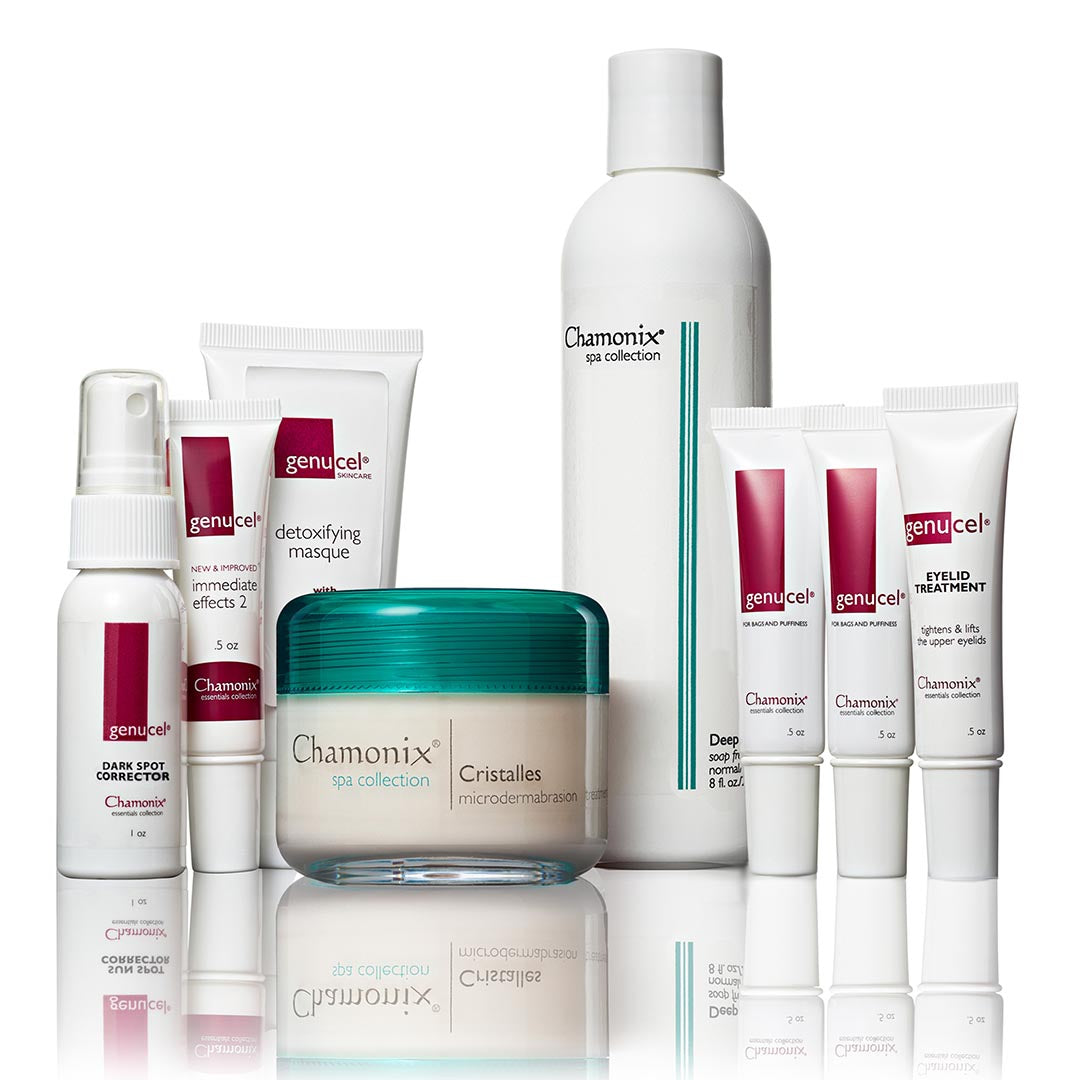 Complete Home Spa Gift Set
Regular price
$878.00
Sale price
$239.00
Save 73%
/
---
Description

What's Inside

Return Policy
Treat yourself to a luxurious spa experience in the comfort of your own home. Instead of spending money on a one-time visit to an expensive day spa, this comprehensive package allows you to enjoy a luxurious, restorative experience whenever you feel the need.
Luxury Meets Relaxation
Everything you need to experience a full-body spa treatment is included within our incredible Complete At-Home Spa Package. It contains a Deep Sea Cleanser and Cristalles Microdermabrasion to refresh your complexion and help you achieve clinical results. Genucel for Bags & Puffiness, Genucel Immediate Effects 2, Genucel XV, and a Dark Spot Corrector also team up to soothe trouble spots and provide you with younger, more radiant looking skin. An excellent gift idea, it's the perfect way to treat yourself or someone you love to a few moments of total spa-like relaxation.
This Package Contains

Genucel Eye Bags & Puffiness Treatment (2 tubes)
Genucel Immediate Effects 2
Genucel Eyelid Treatment
Genucel Dark Spot Corrector
Cristalles Microdermabrasion
Deep Sea Cleanser
Esotique-RF Detoxifying Mineral Masque
Malus Domestica extracts - Obtained using high pressure homogenization, Malus Domestica extracts have been clinically tested to reduce the depth of crows feet and reduce the appearance of wrinkles in close to 100% of test subjects.
Gynostemma Pentaphyllum - An ancient plant native to Eastern Asia. Used in traditional Chinese medicine, it contains a high level of nourishing antioxidants. When applied to the skin, it helps support healthy appearing skin.
Lumiskin - A plant derivative molecule that reduces the appearance of skin darkness, brown spots, or other unwanted pigmentation. 
Hyaluronic Acid - Hyaluronic Acid is a substance that is naturally produced by your body. This natural additive binds to water molecules and hydrates skin at a cellular level, effectively diminishing the appearance of fine lines and preventing future wrinkles from forming.
Magnesium Oxide - This naturally occurring compound is comprised of tiny crystals that gently and effectively exfoliate the skin, sloughing away dead skin cells and improving skin's radiance.
Deep Sea Minerals - Pure mineral nutrients extracted from deep ocean water. Because they have natural anti-oxidant and anti-inflammatory properties, they soothe and polish the skin to create a more radiant complexion.
Vitamin C - A potent antioxidant that supports the skin's natural healing process. It also defends the skin against future damage caused by free radicals and environmental pollutants.
If you don't love the way our products make you look and feel, just contact customer service within 120 days and you'll get a full refund on your order today, even if they are completely empty.
It's that simple.