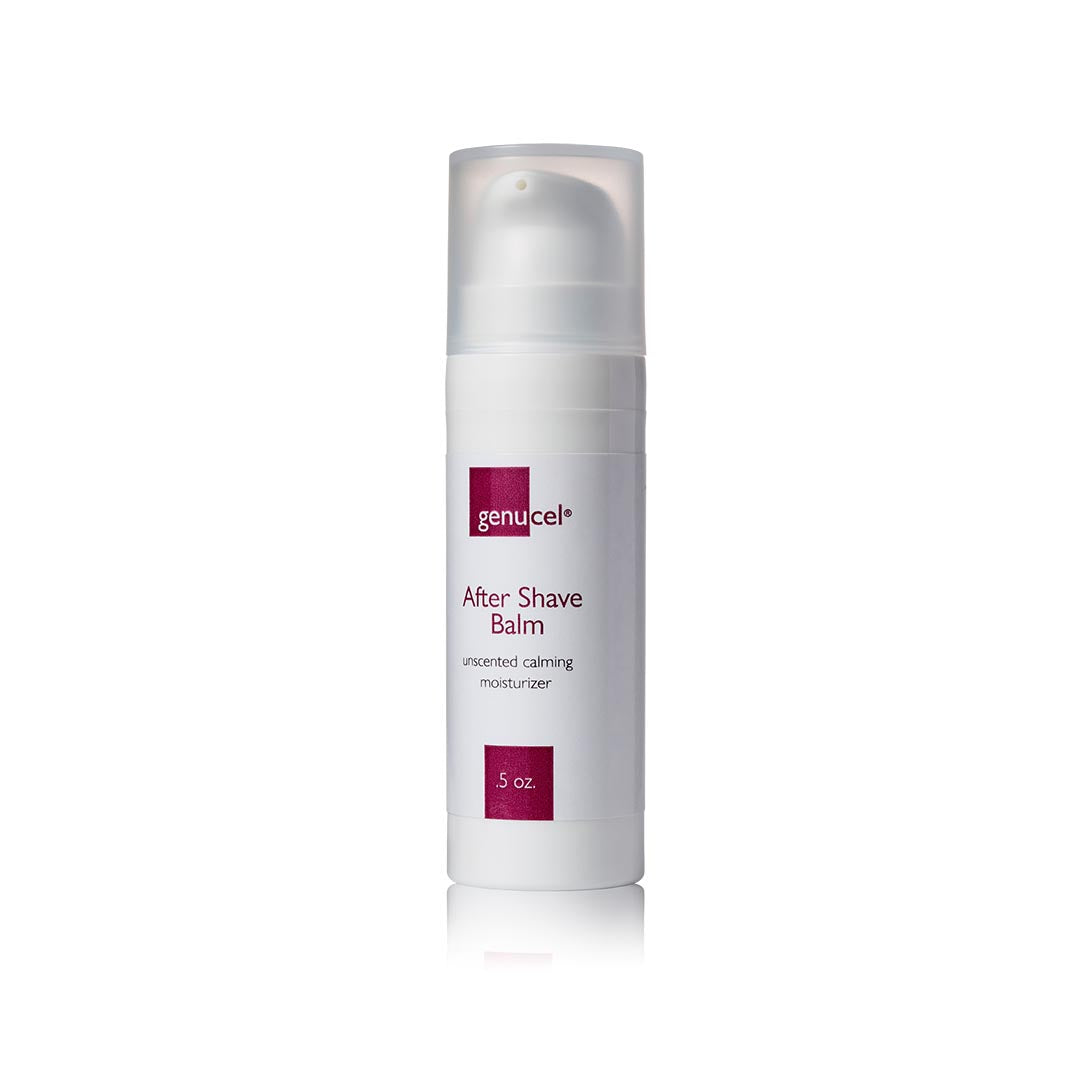 After Shave Balm
Regular price
$48.00
Sale price
$33.60
Save 30%
/
---
Description

What's Inside

How To Use

Return Policy
Genucel After Shave Balm does more than just soothe irritated skin caused by shaving – it also works to protect your skin from future damage, all while promoting a visibly clearer complexion. Unlike lotions that only affect the skin's surface, this nourishing balm contains a special blend of natural ingredients that deeply penetrate and work at the deepest layers of your skin. Eliminate the appearance of redness, breakouts, razor bumps and ingrown hairs by incorporating this soothing After Shave Balm into your regular grooming routine. 
Smooth, Hydrated Skin – Shave After Shave.

No matter what type of razor you use, shaving causes unwanted redness and irritation to occur on the skin's surface. The nourishing ingredients found inside of Genucel After Shave Balm work together to prevent this irritation and promote hydrated, glowing skin from the inside out. A balanced Copper Peptide Complex specifically promotes visibly smoother, younger looking skin. Nourishing plant extracts and hydrating amino acids also ensure moisture is locked in at a cellular level. Apply this soothing balm after every shave to effectively calm redness, reduce the appearance of fine lines, and help your skin fight breakouts caused by acne and ingrown hairs. 


Polyglutamic Acid - Made up of long chains of amino acids, Polyglutamic acid acts as a humectant when applied topically to the skin. This amino acid maximizes the skin's ability to retain moisture to deeply hydrate your skin by helping them retain the highest moisture levels possible.

Copper Peptide Complex - Copper Peptides are powerful antioxidants. Along with providing a barrier against everyday environmental damage that can cause premature aging, copper peptides maintain a smoother looking appearance.

Grape Seed Extract - A classic antioxidant with special properties work to visibly even out skin's tone and texture, resulting in skin that is radiant and free from unsightly breakouts.

After shaving, use your fingertips to gently massage a generous amount into the face and neck. 

A premium formula composed of skin-healthy ingredients, this advanced skincare treatment contains no minerals, petroleum by-products, pharmaceutical preservatives, coloring agents, or other harmful ingredients commonly found in skin care products. 
If you don't love the way our products make you look and feel, just contact customer service within 120 days and you'll get a full refund on your order today, even if they are completely empty.
It's that simple.